Principal and Vice Principal Jobs
Pakistan Scouts Cadet College Batrasl, is a subsidiary of Pakistan Boy Scouts Association (PBSA). The college is a very nascent and budding residential educational institution of KP located in Hazara Division. The college is one of the leading institutions of the country. The President of Islamic Republic of Pakistan is the Chief Patron of PSCC.
Name of Post:  Principal Equivalent to  BS – 20
Education Qualification:
M.A/MSc with at least 17 year of teaching cum administrative experience in a recognized institution OR retired Army Officer in the rank equivalent to BS-20 from Army Education Corps. Candidates having experience as head of Educational Institution will be preferred.
Age 55 years
A consolidated salary package (negotiable}, free medical cover, car with driver and furnished accommodation at campus will be provided.
3 years, extendable by the National Council PBSA
………………………………………………………………………………………………………………………………..
Name of Post: Vice Principal (Admin) Equivalent to BS – 19
M.A/MSc with at leas t 15 years of administrative experience in a recognized educational institution or Retired Army Officer in the rank equivalent to BS-19 and having experience of command & administration in any armed Corps.
 Age 45 years
 A consolidated salary package (negotiable).free medical cover, and accommodation at campus will be provided.
3 years, extendable by the Board of Governors
Last Date to Apply: 15th April, 2023
Source of News Dawn: https://epaper.dawn.com/Advt.php?StoryImage=30_03_2023_182_007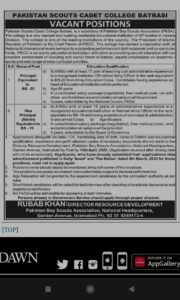 More Jobs:
Principal and Vice Principal Jobs
Executive Assistant to the Chairman 
Official Staff and Security Guard required
Provincial Ombudsman Secretariat Jobs
AJK Tourism & Archeology Department Jobs