Supplements are products that designed to provide additional nutrients or other beneficial substances to the body. While they can be useful in certain circumstances, such as helping to fill nutritional gaps or improving athletic performance, there are also some potential disadvantages of using supplements. Here are some of the most common concerns:
Quality control issues:
Not all supplements created equal, and there have been instances where products found to contain harmful substances. Such as contaminants or prescription drugs, or have been mislabel. In some cases, supplements may not even contain the ingredients that listed on the label, which can compromise their effectiveness.
Overdosing:
Taking too much of certain supplements can be harmful, and some can interact with medications or other supplements. For example, taking high doses of vitamin A can cause toxicities, and taking iron supplements in excess can lead to iron overload and other health problems.
Interference with health conditions:
Some supplements can interfere with health conditions or make them worse. For example, taking blood thinning supplements while on blood thinning medication could lead to excessive bleeding. Similarly, taking calcium supplements without the proper guidance of a doctor can increase the risk of developing kidney stones.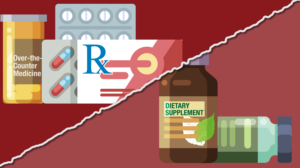 Cost:
Supplements can be expensive, and it may not always be clear if they are worth the investment. In some cases, there may be cheaper alternatives, such as dietary changes or other lifestyle modifications, that can provide similar benefits.
Lack of regulation:
The supplement industry is not as well regulated as the pharmaceutical industry, and this can lead to inconsistent quality and inconsistent information about what supplements do and don't do.
It is important to remember that supplements are not a substitute for a balanced and nutritious diet, and they should not be use as a replacement for medical care. Before starting to use a supplement, it is always best to consult with a healthcare professional to ensure that it is safe and appropriate for you.
It's important to note that while supplements may seem like an easy solution to a health problem or a convenient way to enhance athletic performance, they are not a cure-all. In many cases, lifestyle changes, such as improving diet, getting regular exercise, and managing stress, may be more effective in the long run.
Additionally, not all supplements have been thoroughly test, and some may have harmful side effects that not yet known. Some people may also have an allergic reaction to a specific ingredient in a supplement, or a reaction to the way a supplement  manufactured, such as a reaction to a specific preservative or filler.
It is also important to be aware of false claims made by some supplement manufacturers. Some supplements may be marketed as a cure for a specific condition or as a weight loss aid, but there is often little to no scientific evidence to support these claims.
Finally, it is important to keep in mind that while supplements can provide additional nutrients and other beneficial substances, they cannot replace a healthy diet. A well-balanced diet that includes plenty of fresh fruits, vegetables, whole grains, and lean protein sources is the best way to meet your nutritional needs.
conclusion:
In conclusion, while supplements can be a useful addition to a healthy lifestyle in certain situations, it is important to be aware of their potential drawbacks and to use them responsibly. Always speak to a doctor or other healthcare professional before taking any supplements, and be sure to follow recommended dosages and guidelines. for more details Click Here.
You may like our posts:
Losing weight in a month (Diet plan and Tips)
Top 10 data recovery software for mobile in 2023